Welcome to our
Jhadeswar Science Residential Higher Secondary School . . .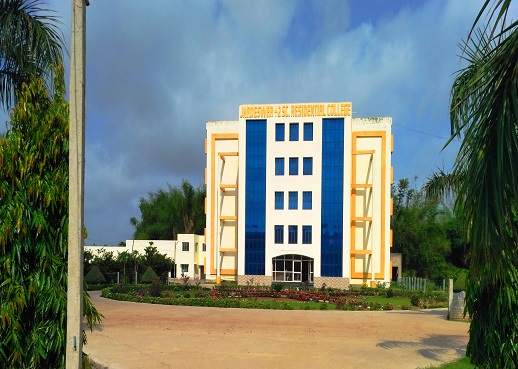 Jhadeswar Science Residential Higher Secondary School, Balasore is situated at a distance of 5 kms. from the main township and 4 kms. off Balasore Railway station. This Temple of Learning stands on a spacious campus spreading over 35 acres of land. Its magnificent five-storeyed creamy building with supporting four hostels, beautiful garden and lawn, nice natural aquarium, parking place, science laboratories, massive canteen functioning round-the-clock. are the important hallmarks. The college was established in the year 2013 vide G.O. No. 15641 /HE, Dt.01.05.2004 and started functioning from the academic session 2013-2014. The college is permanently affiliated to the Council of Higher Secondary Education (CHSE), Odisha with the strength of 384 seats and imparts teaching in the Science stream. At present 30 Teaching faculty members, 24 Officials and Hostel Superintendents and 07 Guest faculties are involved in academic curriculum of students. All admitted students are privileged to be accommodated in the college hostels. The boarders are provided with homely environment for academic niche, nutritious food, health care and proper guidance. The boarders of hostels are provided with homely environment for academic niche. Over a period of 6 years, the College has grown by leaps and bounds, and our name is significantly identified with a quality education in +2 Science stream today. We are counted as the best of northern Odisha.

The College arranges the Short-term 'Summer Course' Programme in every academic year with effect from the academic Session 2013-2014 for a stretch of 45 days duration for the new entrants into +2 Science stream to equip them with the basics of Physics, Chemistry, Mathematics, Botany, Zoology, Information Technology, English Grammar and Spoken English, which are quite sine qua non in the modern scientific age. The cardinal aims and objectives of this bridge course is to bring acclimatization to those aspirants, who dream high to build up their careers in the field of Technology, Medicine, Agriculture, Veterinary, Scientific Research, Genetic Engineering, Microbiology, Biotechnology and Engineering etc. through +2 Science curriculum. The program can properly mould them as the interim course-cum-training pathway in between the Matric H.S.C. or equivalent Exam. and the higher studies. This short-term course can build up their fundamentals in all branches of Science along with the communication skill, which would tremendously help them to upshoot their brilliance and gear up their career graphs.
ABOUT OUR INSTITUTE . . .
Jhadeswar Science Residential Higher Secondary School, Remuna, Balasore.
(Erstwhile Jhadeswar +2 Science Residential College, Remuna, Balasore).
CHSE College code : AA89
SAMS Code : 02085103
UDISE Code : 21080931503
Mauza : Barchikhunta, Remuna, Balasore, 756056 (Odisha)
Location : Near Birla Tyres, Indian Oil Road, Chhanpur, Remuna, Balasore. 756056 (Odisha)
Residential Status : Boarding H.S. School (Fully Residential).
The College runs in a 5-storeyed creamy-white building in lush green eco-friendly environment.
Built up carpet area of the College = 35, 000 sq. ft.
Stream : Science
Year of Opening : 2013
Gender : Co-education
Highest grade : Junior/ Intermediate/ +2 (Class XII) in Science Stream
Class : 11th & 12th (+2 1st Yr & +2 2nd Yr)